The widespread usage of multiple touchpoints for engagement ( communication channels and platforms ) facilitate buyers to interact with businesses at any moment; however, this always does not necessarily mean positive customer experience.
The action plan is to simply understand what type of content consumers are looking for and how they want to interact with the business
As specified in this report, there are 88% of companies who though understand the importance of personalizing the customer experience but lack resources and expertise to strategize an improved customer journey.
Contrary to it, there are only 37% of companies that believe they possess the right tools and resources to deliver the right information to users at the right time for enhancing their overall experience.
The action plan is to simply understand what type of content consumers are looking for and how they want to interact with the business. This way, it will give enterprises a better understanding of their audiences, which they can further leverage to target them with the right kind of information.
And that's why the term, "buyers' persona", have gained undeniable popularity in the marketing space.
This blog will further give insights on buyers' persona, its significance, and how you can create it to enhance the customer experience.
What is Buyer's Persona?
Buyer personas, simply put, are partially-fictional profiles to depict your ideal buyers. These profiles encompass details like the buyers' industry, job title, age, location, and other specific details related to their journeys like critical pain points, buying habits, goals, fears, content preferences, preferred methods of communication, and much more.
Buyer personas are easy to create through quantified research, current data, and past observations. And mind you, it's effective also as can be seen through stats below-
90% of companies who have used personas had been successful in understanding their buyers more efficiently.
82% of companies using personas have succeeded in creating an improved value offering.
93% of companies who surpass lead and revenue goals fragment their database by persona.
How It Can Help Your Business?
Buyer personas bring stupendous value and insights into the organization. Everyone in the team can leverage it for effective results-
Webmasters and web content managers can utilize buyers' persona for behavioral evaluation to further refine them based on visitor behavior and activity. It also aids in gathering feedback from customer service teams to keep the profiles updated all the time.
Content marketers can use it to audit and tag their marketing content to analyze where it fits into the buyer journey for various stages.
Marketing leaders can enable programmatic marketing to deliver the right content to the right audience via the right channel at the right stage of the buying process.
A sales executive can use it for boosting sales and understanding the various members of the buying committee- what they care about? How to build an agreement to close the deal?
As a result, teams will be well-equipped to serve your customers' needs and deliver an exceptional experience that keeps them coming back for more. However, if you don't pin down your buyer personas, every aspect of your product development process, user experience, and marketing campaigns will suffer.
Importance Of Leveraging Buyer Persona

Leveraging buyers' persona can prove to be very fruitful. Find out how-
The more customer-centric and personalized is the message, the more it will engage and trigger potential customers and users
1. Personas nurture relationship

Keeping customers at the heart of the organization is crucial for any business to succeed in today's time. A comprehensive persona can help you promote harmony among your clients that further leads to a stronger understanding of what they are looking for. Knowing your customers' goal, motivation and behaviors can ease your work eventually.
2. Impress clients with website interface and design
Focus on developing a website whose design reflects the customer experience or the company's operations. Inculcate customers at the core of the design to find out how prospects engage with your brand through its lifecycle and whether their needs are getting fulfilled or not.
Unambiguous and focused persona designs highlight the road your customers will travel within your business and present you the opportunity to work upon them.
3. Attain targeted marketing

Buyer personas assist enterprises in getting accustomed to their targeted customers.
This way, businesses can gain additional info from customers which they didn't know of earlier. Once enterprises know their prospects, it can prepare market assets using the language they resonate in to convert them into leads.
Perhaps targeted marketing will help you to outshine your competitors.
4. Gain a competitive advantage

Customer-focussed web designs never fail to outperform the generic one. Further, it assists in designing a more appealing website than your competitor, who is using the same generic messaging for everyone.
Evaluate yours as well as your competitors' site with watchful eyes. Talk to your digital marketing personnel to do the competitive analysis for your current website.
5. Delivering personalized messages

Streamlining all content from whitepapers to videos, blogs, articles catering to the needs defined in the buyer personas, marketers can deliver the right message effectively with the right content at the right time.
The more customer-centric and personalized is the message, the more it will engage and trigger potential customers and users. Data from Hubspot indicates that sending emails as per buyers' persona increases CTR by 16%.
Sales executives can also use buyer personas while communicating with the customer, either through traditional channels or via digital modes. Buyer personas and segments aid the sales team in knowing who their customers are and what are their needs.
Buyer personas are the prerequisite for creating powerful and personalized messages delivered across all channels of marketing: site visits, events, outbound email programs, and social media communications.
Marketers themselves see a boost in sales when they tailor the web experience for users and a 20% increase in sales opportunities when prospects are nurtured with targeted content.
How Can You Create a Buyer's Persona?
Creating a buyers' persona is not a difficult task. It's just you have to find out who are your best customers, and whom you are trying to target. Also, look for common traits among these people, and note them down.
Here are 5 places to collect info for your buyer persona-
Consider conducting surveys or adding a survey popup to your website to gather customer data that can help you get to know your target buyers
1. Customer Data
Interview current customers or look at real data provided from them. Customer service and sales teams have a massive amount of buyer data which you can sift through.
In case you have demographics and interest reports enabled in Google Analytics, you can get insightful audience reports from there as well.
Consider conducting surveys or adding a survey popup to your website to gather customer data that can help you get to know your target buyers.
2. Competitor Data
Spy on your competitors to find out who are their customers and then use the same information to fill the buyer persona. You can also watch out their social media followers to get the scoop on their audiences.
There are a plethora of tools for the same as you can use Followerwonk for Twitter or Socialbakers Analytics for other social media platforms.
3. Market Research
Investing in market research can be one of the greatest ideas to know your target customers.
Either doing it in-house or outsourcing to some firm, you can conduct focus groups with the info and send out questionnaires to people in your target audience.
Collecting and evaluating market research data can quickly unveil commonalities within your target buying audience. However, look beyond the commonalities in the data to focus on the actual words your target buyers are writing in these surveys. The message and the personality that will come out through these responses will help you pop out your buyer persona effectively.
4. Social Media
Leverage social media to connect to your users and get a closer look at other people whom you are trying to reach with your products and services.
Check your analytics using the built-in reporting tools on your primary social media platforms. Keep in mind that you are looking for more than just gender, age, and location. Consider the time of day your followers are posting, what their interests are, and who else they are following.
Also, read the posts your most active followers are writing. You can gain so much insight into the personalities, personal lives and work-lives of your target buyers this way.
Once information is collected, you should start writing the buyer persona using these insights.
While creating personas, you can cover these details specifically-
Basic demographic information
Collect information like age, location, and income by the above methods as mentioned.
Behaviors
By what mode they prefer to communicate? What tone do they use? What activities do your customers enjoy?
Goals
What are your customer expectations and what do they want to achieve?
Pain points
The downside of their goals. What kind of problems or hindrances they are trying to settle?
Buying patterns
How do your customers prefer to shop? At what time of the day the customers are most active?


Using Personas To Improve the Customer Experience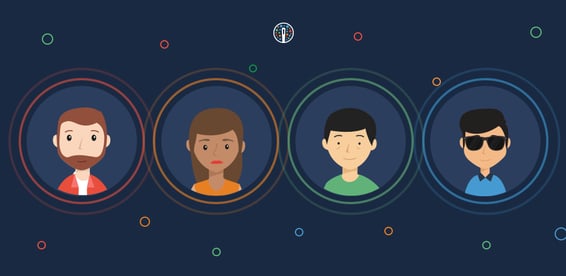 Taking notes of customer requirements' is paramount in improving their experiences. Here's how buyer personas can help enterprises improve it-
Consistency in communicating your brand values and ideas without any manipulations can be challenging especially when you have multiple associates working remotely
1. Time is money
Think about the whole customer journey as a way to leverage buyer personas. There could be one new buyer who might be thinking to consider your services or products, whereas another buyer is a repeat customer who might be interested in knowing about other products or services your business offers.
Timing plays a key role in such scenarios. A potential customer may get impressed if they get too many options from the get-go, compared to a regular or frequent customer who would love to welcome a more personalized experience. Ensure that you deliver the right message to the right customer at the right time.
2. Personalize your omnichannel experiences
Businesses should have a sound strategy to attract audiences across various channels to deliver each one of the experiences like it's personally curated for them.
For instance, your brick-and-mortar customers must be largely in their 40s or 50s whereas your online orders may primarily come from millennials. On one hand, millennials like to dine in a restaurant with low lighting and loud music, and if they are just ordering take-out from your app, then you don't necessarily want to cater to them in your brick-and-mortar restaurant.
Tailor the messages, buyer journey, and overall experience to the different personas on each platform.
3. Strengthen Your Brand Messages
Consistency in communicating your brand values and ideas without any manipulations can be challenging especially when you have multiple associates working remotely. It is important to keep them all on the same page to avoid delivering mixed experiences.
Mixed messages can put a negative impact on customers' experience. The well-managed organization and successful companies convey one clear, concise, and understandable story through every action they take to portray brand vision, mission, and social responsibilities across to attract and retain customers.
4. Enhance the quality of products and services
Buyer personas help you in identifying customers' likes and dislikes. This information then can be utilized to bridge the gap in updating the information to provide an enhanced customer experience.
For example, a restaurant created its buyers' persona as a means to test and refine their menu. While there may be healthy dishes for the fitness-freaks, veg options for vegetarians, but only a few vegan plates, so in that case, vegan buyer persona might be turned off by a menu. Taking a closer look at who your customers are will show them you understand and care about their needs and wants.
Final Words
Personas will play a more prominent role soon as prospects wait eagerly to interact with sales and marketing during the buyers' journey. Marketers will have to change their approach towards buyers to deliver a better and more personalized experience.
A customer experience strategy is a perpetual process. Embrace a continuous improvement approach. Analyze, optimize, and repeat.