The Situation
UNDP wanted to:
Enhance their design system by transforming it into an organizational asset.
Improve their Drupal 9/Acquia CMS and Cloud Site Factory experience, and component-based implementation using Site Studio.
Provide UNDP Country offices globally with top-notch CMS editorial experience.
Build a scalable, flexible, and responsive content management system.
Migrate 200+ websites with over 30K multi-lingual pages.
Deliver user-friendly experiences to UNDP web admins in managing their websites with the help of Acquia Cloud.
Relaunch global site in three languages- English, Spanish, and French.
Enable optimal performance for the end-users.

Enhance developer experience with reusable components.

Deliver frictionless experience to their marketers by providing features like content sharing and localization capabilities.
The Challenges
Some of the significant challenges were:
Had to deal with migration complexities due to Inconsistency across regional websites/microsites
Difficulty in onboarding new sites in the existing infrastructure.
Lack of reusable components.
Inability to modify and update content in real-time.
Unable to share and localize content.
Lack of flexibility to carry out advanced searches.
Absence of multi-site website infrastructure.
The Solution
Srijan is a digital experience company that understands the impact of delivering holistic digital experiences to end users. We have worked closely with the UNDP team during the discovery phase to understand their needs at the micro-level.
Implemented Acquia Site Factory to manage multi-site deployments, including their custom micro-sites. Site Factory, with its centralized cloud management console, allows the UNDP's digital platform team to build, provision, and maintain their global sites. It has created the much-needed visibility, trust, and control for operating global websites as a service, efficiently.
We have implemented Acquia Site Studio for a seamless and dynamic content update and make real-time changes to it. With its no-code drag and drop content authoring capability, authors can quickly create rich pages in the production environment itself. We have used Acquia Search to implement advanced and flexible search capabilities, which has started delivering faster search results.
We have leveraged the potential of Drupal and the Acquia suite of products including Acquia Cloud for a seamless transition with negligible impact on ongoing operations. This resulted in building high-performance, secure, and scalable websites capable of rolling out content and tailored user experiences, faster.
Overall Approach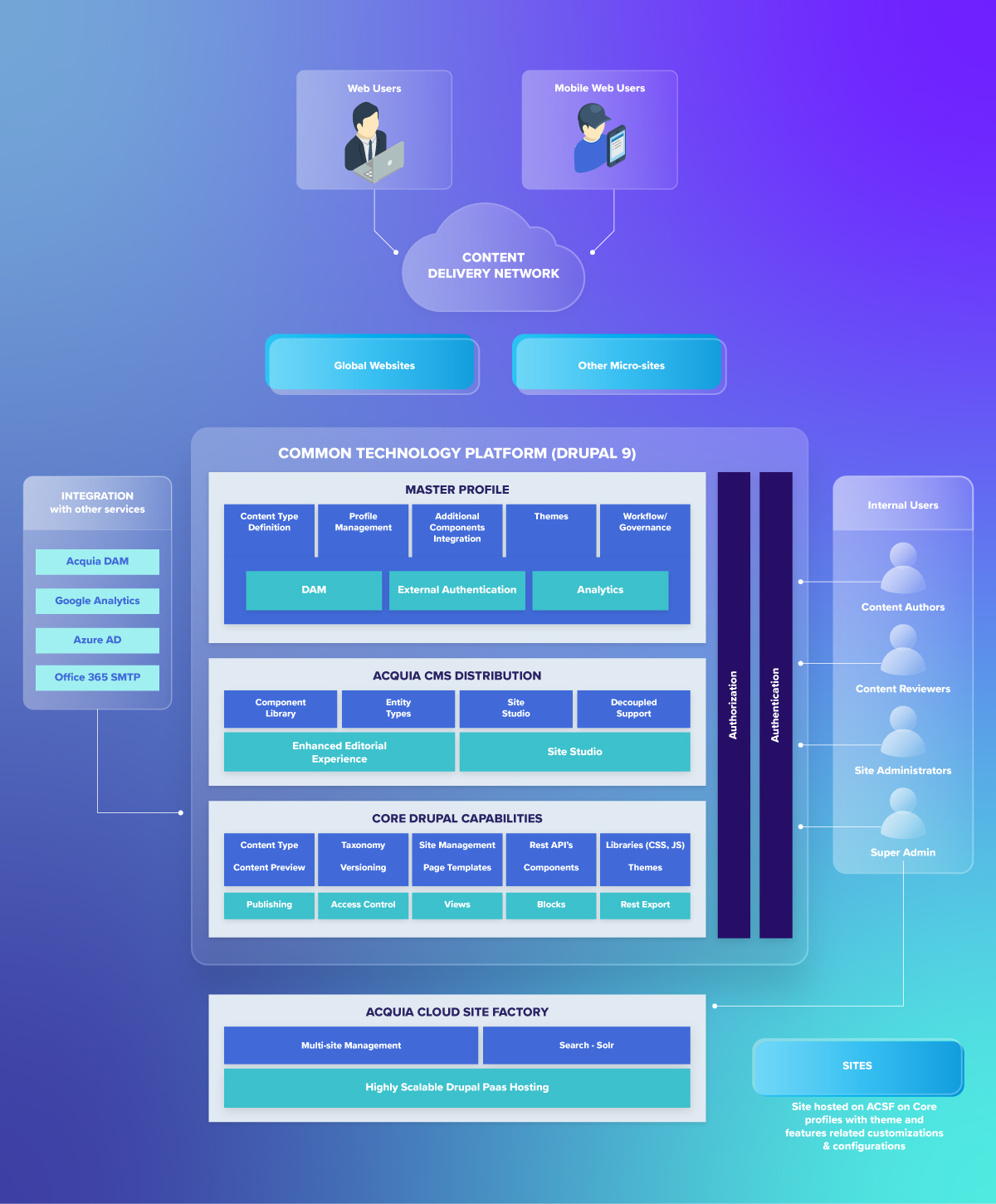 The Results
With Acquia Cloud Platform and Acquia Site Studio, we built a unified Drupal-based platform and migrated UNDP's 200+ corporate websites to the new platform. As part of the solution, UNDP master distribution was built using Acquia Site Studio to deliver a feature-rich, highly responsive, scalable, and multi-lingual website with optimal performance. This solution benefits the website admins, content creators, and content consumers (website users). Here are some of the notable results:
For website admin & IT teams:
easy and seamless hosting of UNDP multi-site platforms
building, provisioning, and maintaining a centralized hosting solution to manage all the digital properties from a single interface
presence of reusable components led to low-code/no-code development of content pages, without having to depend on the developers
For Content editors/creators
drag and drop features helped in building landing pages on the fly/ faster
content sharing and localization capabilities helped drive collaboration and consistency across the websites
adding/editing content in real-time and streamlined content management & delivery led to a faster publishing cycle
For content consumers (website users)
consistent/uniform experience across all of UNDP's websites due to standardized UI/UX
advanced search capabilities leading to a 150-200% increase in response time to queries
In a nutshell, Srijan Technologies not only addressed the pressing needs of the client but also empowered UNDP to derive immense value through the creation of new digital experiences.